Next Chat Event
International Time Zones

The Richardson Olmsted Complex in Buffalo, the United States, is a modern name for the Buffalo State Hospital, which itself was originally called the Buffalo State Asylum for the Insane. This large Medina red sandstone and brick hospital that stands on the grounds of the present day Buffalo Psychiatric Center in Buffalo was designed in 1870 by famed architect Henry Hobson Richardson, while the landscaping was done by another famous personality, Frederick Law Olmsted, a landscape architect who designed New York's Central Park.

The landscape was an integral part of the treatment at Buffalo State Hospital. Psychiatrist Dr. Thomas Kirkbride, according to whose philosophy the facility was designed and the asylum's treatment program was developed, believed the need for the mentally ill to interact with nature in order to heal. The asylum's 203 acres of untouched farmland was hence one of the facility's major assets.

Source
_________________

Dragon

Senior Administrator





Posts

: 1437


Points

: 2442


Join date

: 2018-01-18



Photo credit: Shannon O'Toole/Flickr
Source / Image Courtesy
_________________

Dragon

Senior Administrator





Posts

: 1437


Points

: 2442


Join date

: 2018-01-18



Photo credit: Shannon O'Toole/Flickr
Source / Image Courtesy
_________________

Dragon

Senior Administrator





Posts

: 1437


Points

: 2442


Join date

: 2018-01-18



Photo credit: Chris Payne/ESTO and Joe Cascio
Source / Image Courtesy
_________________

Dragon

Senior Administrator





Posts

: 1437


Points

: 2442


Join date

: 2018-01-18





Richardson - Olmsted Complex
_________________

Dragon

Senior Administrator





Posts

: 1437


Points

: 2442


Join date

: 2018-01-18





Inside Look at Richardson Complex
_________________

Dragon

Senior Administrator





Posts

: 1437


Points

: 2442


Join date

: 2018-01-18



Oh wow, that place is huge.
We have a similar one in the UK somewhere in Northampton. There is one nearby - Hellingly Hospital.Many would go there to 'ghost-hunt'.
They have recently (in past few years) begun to demolish the place. Big huge place but nowhere near as big as this one here
Always feel so sad when looking at those pics of inside, you can just feel the impressions/energy left behind from those who spent their lives inside.....
My dad used to help out with the summer fete's they had in hellingly hospital. Many of them in there were placed there due to family members passing away. Or for getting pregnant young whilst not married, was used as a place of punishment of sorts, for those who brought shame to their families.
Many stayed as they had become institutionalized and could not cope adjusting back into society
Like you said Dragon, it's not the spirits we need to fear, it's the living
completely agree
_________________

Cloud

Global Moderator





Posts

: 1090


Points

: 2498


Join date

: 2018-01-12


Location

: Sirius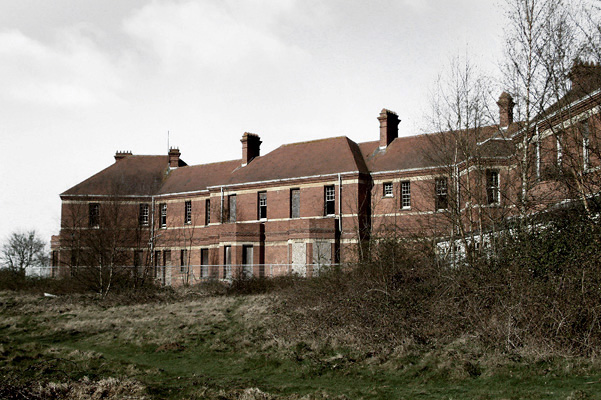 Source
Hellingly Asylum, UK
(Pinterest)
Image Source/Credit
_________________

Cloud

Global Moderator





Posts

: 1090


Points

: 2498


Join date

: 2018-01-12


Location

: Sirius




---
Permissions in this forum:
You
cannot
reply to topics in this forum