Next Chat Event
..


Well, hi there everyone

I'm new  to this site and for one i'm glad I found this place You all seem to know quite a lot and have a lot to give

I am needing some support right now if you wouldn't mind please
It has been awhile since I used a forum of any kind to bear with me and sorry if I mess up on posts.
So my story

the short version is =  a very close friend of mine is terminally ill and although I am spiritual & although I believe in the afterlife i'm starting to really feel struggle in coming to terms with their death.


Death and births are part of the cycle of life, I do believe that we live on once we leave the physical. I wondered I guess if anybody has any words of wisdom, tips, anything that can help me to comfort my friend right now.
I would appreciate that very much.
My friend has identified as atheist most of their life, however they did tell me that in reflecting they believe there could be something beyond death. For example, that our energy may continue on. Or that maybe something remains. As she did say that there is too much evidence to support paranormal activity than there is to not.
I just want to help comfort her. She asked me what do I believe is on the otherside.

I told my friend I would talk to her about it later, because bearing in mind she is soon going to transition into the next life, well I need to approach this carefully, d you think?

Umm. So ... if anybody has any light to shed, anything to help. I'm so sorry this post might be jumbled I just did not know where to start in the forums. Thank you very much all, in advance. 11EternalFlame11

11EternalFlame11

Member





Zodiac

:

Posts

: 13


Points

: 347


Times User Thanked:

: 5


Join date

: 2018-10-23


Location

: Liverpool, United Kingdom



Welcome to Mystic Sisterhood 11EternalFlame11
Nice meeting you.  
Join us in Chat.
Sending
You and Friend
, Many Blessings, Strength, Healing, and Much Much Love.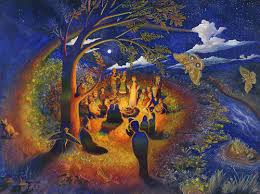 _________________

Dragon

Senior Administrator





Posts

: 3286


Points

: 14945


Times User Thanked:

: 204


Join date

: 2018-01-18





Similar topics
---
Permissions in this forum:
You
cannot
reply to topics in this forum