Next Chat Event
..

These ones I find helpful..... in combinations
Hematite: for very strong psychic attakks.. it's got a heavy energy but in terms of warding off what has been sent, it will work in your favour.. wouldn't recommend wearing it but I would say it's good to have a tumblestone tucked away somewhere at home in a room you don't spend much time in (so you're not around it for long)... If warding negativity from the home i'd recommend keeping one in your front/back gardens or even in your car to repel theft and so on.. it has good warding-off energies in general. kind of pushes away any negative temptations
Amethyst: It's a good psychic development stone but I feel it can be useful in protecting and in bringing awareness of psychic attacks... same with clear quartz to balance energies out after one
Carnelian I find is good for grounding so I keep that on me a lot as you know
Though I Think out of them all, I'd recommend Onyx...... if I had to pick one for psychic protection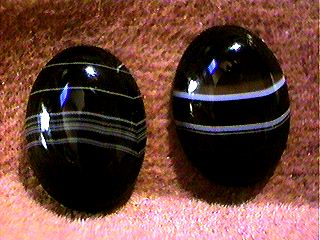 Image Source

Cloud

Psychic Reader





Zodiac

:

Posts

: 3816


Points

: 9082


Times User Thanked:

: 142


Join date

: 2018-01-12



I agree on Obsidian/Black Obsidian.. I find it similar to Onyx so i'd say either of those, probably very similar qualities.


Cloud

Psychic Reader





Zodiac

:

Posts

: 3816


Points

: 9082


Times User Thanked:

: 142


Join date

: 2018-01-12





Similar topics
---
Permissions in this forum:
You
cannot
reply to topics in this forum