Next Chat Event
International Time Zones

Globular clusters are found around all large galaxies, but their origin and role in galaxy formation remain tantalizingly unclear. Astronomers recently discovered a black hole lurking at the heart of NGC 3201 — its position was revealed by the strange movements of a star being quickly flung around a massive, invisible counterpart. This sparkling group of stars also has some strange properties that make it unique amongst the more than 150 globular clusters belonging to the Milky Way. NGC 3201 has an extremely fast velocity with respect to the Sun, and its orbit is retrograde, meaning that it moves speedily in the opposite direction to the galactic center.

The unusual behavior of this cluster suggests that it may have extragalactic origins but at some point was captured by the Milky Way's gravity. However, the chemical makeup of this intriguing cluster tells a different story — the stars within NGC 3201 are chemically very similar to those of other galactic globular clusters, implying that they formed at a similar location and time to their neighbors.

Source

 

Dragon

Senior Administrator





Posts

: 1443


Points

: 2454


Join date

: 2018-01-18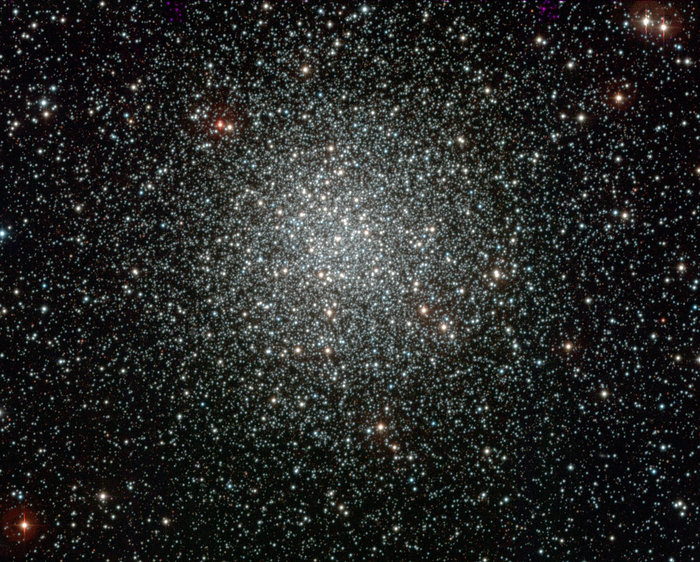 Credit: ESO
Colour-composite image of the globular cluster NGC 3201, obtained with the WFI instrument on the ESO/MPG 2.2-m telescope at La Silla. Globular clusters are large aggregates of stars, that can contain up to millions of stars. They are among the oldest objects observed in the Universe and were presumably formed at about the same time as the Milky Way Galaxy, in the early phase after the Big Bang. This particular globular cluster is located about 16 000 light-years away towards the Southern Vela constellation.
Source / Image Courtesy

Dragon

Senior Administrator





Posts

: 1443


Points

: 2454


Join date

: 2018-01-18





Astronomers using ESO's MUSE instrument on the Very Large Telescope in Chile have discovered a star in the cluster NGC 3201 that is behaving very strangely. It appears to be orbiting an invisible black hole with about four times the mass of the Sun — the first such inactive stellar-mass black hole found in a globular cluster. This important discovery impacts on our understanding of the formation of these star clusters, black holes, and the origins of gravitational wave events.

This artist's impression shows how the star and its massive but invisible black hole companion may look, as they orbit each other in the rich heart of the globular star cluster.

 

Dragon

Senior Administrator





Posts

: 1443


Points

: 2454


Join date

: 2018-01-18




---
Permissions in this forum:
You
cannot
reply to topics in this forum